Hi,
I have made a little MIDI converter plugin :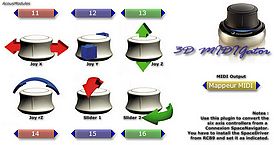 http://acousmodules.free.fr/acousmodule ... Dmidigator
You can use it as a VST plugin in hosts that support MIDI connections, or as standalone with a MIDI router.
Actually there is a problem which makes one axis unavailable : due to the limits of the David Haupt joystick extension that I use it is not possible to retreive the rX and rZ Joy axis, but I can use a second slider.
My question to RCB9 : can you add a 2nd slider option in the SpaceDriver ?
Thanks !
I hope that this plugin can be usefull for some of you...
Regards,
Jean-Marc Duchenne